Antoni Maiovvi est un dj et producteur anglais originaire de Bristol. Comme il le dit lui même avec auto-dérision, sa carrière commence par un invraisemblable mensonge en réalité il n'est pas un producteur d'italo des années 80 à la reconquête du succès… Parallèlement au groupe de noise-rock Geisha son projet prend forme fin 2006 explorant avec brio différents styles: Hi-NRG, synth-pop, wave, sur de multiples labels: Death Waltz, Fright Records, Cyber Dance Records, Seed Records, Sauroid, et son dernier EP en date sur J.A.M Traxx, ainsi qu'un maxi en préparation sur Magic Feet.,
Il est également co-fondateur avec Vercetti Technicolor du label au nom évocateur Giallo Disco: Horror/synth/Italo-disco, leurs productions rétro-futuristes et mélancoliques sont un subtil mélange d'influences qui vont de John Carpenter à Goblin en passant par Fabio Frizzi et Harold Faltermeyer, sans tomber dans la caricature, le tout joyeusement illustré par des montages percutants d'obscures giallos et autres slashers dépoussiérés pour l'occasion (Giallo Disco youtube channel).
Pour ce quatorzième épisode Antoni Maiovvi nous délivre une sélection érudite de krautrock et prog-rock teintée d'ambient.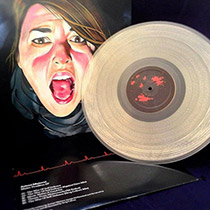 Antoni Maiovvi is a dj and producer from Bristol, UK. As he also owns it up with a subtle self mockery, his career began with a quite frankly amazing lie….In reality he's not an original italo producer from the 1980s coming back to reclaim his crown… While investing himself in the noise rock group Geisha, his solo project starts shaping up at the end of 2006 exploring various styles: HI-NRG, synth-pop, wave on numerous labels, Death Waltz, Fright Records, Cyber Dance Records, Seed Records, Sauroid, his latest EP on J.A.M Traxx, as well as an upcoming release on Magic Feet.
He's also the co-founder with Vercetti Technicolor of Giallo Disco label: Horror/Synth/Italo-disco, their retro-futurist and melancholic productions finely blend different influences ranging from John Carpenter to Goblin, Fabio Frizzi and Harold Faltermeyer still keeping their singularity, and joyfully illustrated by striking footage of gloomy giallos and other slashers (Giallo Disco youtube channel).
This fourteenth exclusive mix is an erudite selection of krautrock, prog-rock and ambient.
Télécharger / Download LYO#014 – Antoni Maiovvi
Tangerine Dream – Ricochet (Part 2)
Boris Divider – Aeon
Dome – Cruel When Complete
Aphex Twin – Stone In Focus
Popul Vuh – Mantra I
Emeralds – The Overlook (Side 2)
Maurizio Bianchi – Come To Terms
Michael Garrison – Eruption
Ash Ra Temple – Traummaschine
Klaus Schulze – Stardancer
Steve Moore – Light Echoes
Fripp & Eno – Wind On Water
Faust – Jennifer
Astral Social Club – Ginnel
Christoph de Babalon – Opium
Angelo Badalamenti – Dark Spanish Symphony (String Version)