En regardant récemment les crédits sur les labels de quelques-unes de mes versions dub de disco et boogie préférées, je remarque un nom qui apparaît plusieurs fois: celui d'Eric Matthew. Ma curiosité éveillée, en fouillant un peu sur le net, je m'aperçois qu'il s'agit d'un pseudo pris par un certain Joseph Tucci, qui n'est autre que le co-fondateur, chanteur et multi-instrumentiste de Gary's Gang, groupe connu notamment pour leur single Keep On Dancin' (place 41 du Billboard 100 en 1978). Surfant sur le succès de Gary's Gang, Matthew produit quelques artistes phare de la scène club de New-York, dont Sharon Redd pour Prelude et Sinnamon pour Becket, avant de fonder son propre label Radar Records en 1982.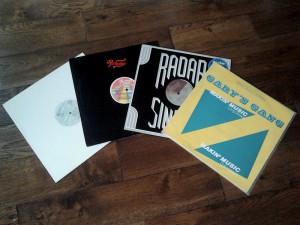 Les productions d'Eric Matthew ayant retenu tout particulièrement mon attention sont les versions dub de deux morceaux de Toney Lee sortis sur Radar, à savoir Love So Deep et Reach Up, la version instrumentale d'On A Journey par Electrik Funk (sortie sur Prelude), et le mix dub de Makin' Music, par Gary's Gang justement, certes moins obscur. Ses arrangements épurés, souvent réduits à l'essentiel (un bon beat suffit amplement) et ses techniques de production dub révolutionnaires pour l'époque (le delay pendant le break de Love So Deep!) en font pour moi un des pionniers indéniables de la house, genre qui explose peu de temps après. Plus récemment, il est indéniable que le son d'Eric Matthew a eu une grande influence sur un certain Morgan Geist, de la paire Metro Area.
Toney Lee – Reach Up (Dub Mix)
 Toney Lee – Love So Deep (Instrumental)
Electrik Funk – On A Journey (Instrumental)
https://www.youtube.com/watch?v=8P8TuErvh40
Gary's Gang – Makin' Music (Dub Mix)
Lately, while looking at credits on the labels of some of my favourite dub versions of disco and boogie, I came across a name on several occasions: Eric Matthew. Intrigued, I did some research and found out that it was a showbiz name for Joseph Tucci, none other than the co-founder, lead singer and multi-instrumentalist of the disco band Gary's Gang, famous for their single Keep On Dancin' (#41 on the Billboard 100 in 1978). Following on from the success of Gary's Gang, Matthew produced some major artists from the New-York club scene, including Sharon Redd for Prelude and Sinnamon for Becket, before founding his own label Radar Records in 1982.
The tracks produced by Eric Matthew that particularly caught my attention are the dub versions of two songs by Toney Lee that came out on Radar, namely Love So Deep and Reach Up, the instrumental side of On A Journey by Electrik Funk (released on Prelude), and the dub mix of Makin' Music, precisely by Gary's Gang, the latter being a little less obscure. His uncluttered arrangements, often reduced to the essentials (a good beat is more than enough) and his then revolutionary dub production techniques (the delay during the break in Love So Deep!) make him one of the undeniable house pioneers, a genre that broke through shortly afterwards. Finally, more recently, there is no doubt that Eric Matthew's sound had a major influence on a certain Morgan Geist, half of Metro Area.