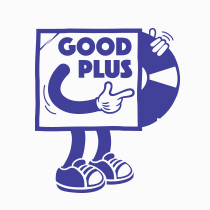 Here we go folks! A thumbs up to Les Yeux Orange for the 5th release on their topnotch Good Plus imprint. Yet again, they've pulled three fancy and obscure edits out of the hat, and right before summer! 
On the A side, let the Italian grandpa tell you his story of the Continente Nero and enter into the deep savanna with the floor filler « Africa » with its super effective bassline. Surrounded by the wildest animals, let yourself be transported by the mystical Shakuhachi flute ringing through the night ! 
Then we have « Samurai », a crossover song between synth-pop and Hi-NRG à la Bobby Orlando – about the last battle of an ancient Japanese warrior, resulting in a sensual and epic track. Put on your aerobic outfit and dance your socks off!
On the flip side, « Midnight » will give you goosebumps with its haunting vocals about a monster chasing a freaked out girl! This italo banger will turn the dancefloor into a gloriously cheesy Thriller homage!
LES YEUX ORANGE – GHOST DOG
A1 – Africa
A2 – Samurai
B – Midnight