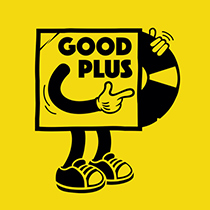 Just in time for your summer of love, Good Plus is back with three tropical disco, boogie, housey and balearic edits !
On the A Side "Bolji Zivot" from Kompleks is already a secret anthem for a long time at 20/44, the iconic small club of Belgrade which is a favorite of many dj's around the world (including us)
They reshape here the main theme from cult yugoslavian tv-show from late 80's equally named "Bolji Zivot". Sax galore, relentless house loops, we call it a hit !

On the B Side, LYO takes over with "Drole De Drague", a feverish frenchie-brazilian affair which carries us straight to the lively and colorful shores of Copacabana, Ipanema or Leblon. Inspired lyrics, killer disco breaks, samba infused grooves ; guarantee to make sweat any dancefloors !
Finally, last but not least, LYO closes the deal with the balearic tinged "La Bella Vita" in a more mellow and lazy fashion, perfect for those sun drenched moments. 
LES YEUX ORANGE X KOMPLEKS – A BETTER LIFE
A1 – Kompleks – Bolji Zivotg
B1 –  Les Yeux Orange – Drôle De Drague
B2 – Les Yeux Orange – La Bella Vita