Otto Kraanen aka De Dupe commence à collectionner des disques de jazz, funk, et spécialement de hip-hop à la fin des années 90, mais, lassé des productions postérieures à 1995, il se met en quête de nouveaux horizons musicaux. Il écoute de vieux enregistrements des légendaires radios américaines WBLS et WBMX, se passionne alors pour le son disco 80's et la chicago house, ce qui l'amène à l'italo disco en pleine renaissance du genre, notamment via la radio Cybernetic Broadcasting System, il fréquente également la boutique Clone de Rotterdam. En 2008 Il lance son premier label vinyl dédié à d'anciennes productions de rap jamais sorties à l'époque (Lord Finesse & DJ Mike Smooth, Sport G & Mastermind). Se sentant à l'étroit dans le hip-hop, Il prend par la suite un tournant créatif, passionné par la dance music des années 80, le graphisme, les vieux films et l'Italie, il donne naissance à une entité qui combine subtilement tout ces ingrédients: le label Bordello A Parigi. Fin Janvier trois sorties sont annoncées sur Bordello: Rude 66 – The Kill, Mario Moretti – Spaziotempo et Aldo Bergamachine – Astromoog, à venir prochainement Antoni Maiovvi et plein d'autres surprises…
Le 17 janvier si vous êtes sur Nantes ne manquez surtout pas la soirée Bordello A Parigi hébergée par le collectif Fiction Palace, et le 25 janvier Pip A Parigi à La Haye.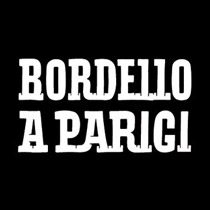 Otto Kraanen aka De Dupe starts collecting jazz, funk, and especially hip-hop records in the late 90's, but getting bored with post mid 90's stuff he hunts for a lot of other music… While listening to old WBLS and WBMX radio recordings he got into 80's disco and Chicago house which leads him to italo disco when revival is going on, exchanging discoveries with a friend while spinning records before going out, patronizing famous Rotterdam-based record store Clone and tuned in the Cybernetic Broadcasting System. He launches his first label in 2008, releasing vinyl unreleased rap stuff from artists like Lord Finesse & DJ Mike Smooth, Sport G & Mastermind. Tired of the creative boundaries vibes he takes a turn and being passionate about 80's dance music, graphic design, old movies and Italy, he unleashes his creativity giving birth to something which could combine all these ingredients: Bordello A Parigi's label was born… In the end of january three club bangers are upcoming on Bordello: Rude 66 – The Kill, Mario Moretti – Spaziotempo and Aldo Bergamachine – Astromoog, later on this winter it's time for Antoni Maiovvi and much more to come… 2014 also means more Bordello A Parigi partying! 17th of January is the kick-off in Nantes, in cooperation with Fiction Palace and the 25th of Januari it's time for Pip A Parigi in The Hague, The Netherlands.
Télécharger / Download LYO#019 – De Dupe
Tracklisting /
Interface – Anna Vladia (Carrere 1987)
Rude 66 – What Matters (Bordello A Parigi 2014)
Love On Laserdisc – Main Frame (Compuphonic 2010)
Mario Moretti – Multiverse (Bordello A Parigi 2014)
Guy Andrews – 7AM (Fina Records 2013)
Pixelife – The Doctor Is Out (Throne Of Blood 2013)
Guy Andrews – Divide (Fina Records 2013)
Franz Underwear – Cattolica '81 (Bordello A Parigi 2013)
Jarle Bråthen – Italiano Fantastico (Full Pupp 2013)
Credit 00 – Ice Cream (Uncanny Valley 2013)
Polysick – Witness (J.T.C. Remix) (Minimal Rome 2013)
Turntable Terror Trax – In The Bass (Bassment Records 1987)
Ultracity – Resurrection (Rollerboys Recordings 2009)
V.U.L.V.A. – White BMW (Legowelt Remix) (Ural 13 Records 2002)
Colors – Lonely Night (Technicolor Version) (Discomagic Records 1985)